This course will transform your colour sense for dressing yourself and your clients from average to amazing. It is designed for new and seasoned image consultants who are passionate about colour and seek to master colour theory in practical ways for a holistic approach to image consulting skills. Using the AIM ColourSmart seasonal flow system that international image consultants have found to be easy to use with accurate results, you will be able to complete a real-life client personal colour analysis and give colour recommendations with confidence. The course covers a segment on developing marketable colour services to help you get started with colour consultations, either for business or as a hobby.
Course delivery: mini lectures, demonstration, interactive learner activities, group discussions, case study and case client practicum. Course fee includes a comprehensive guidebook, ColourSmart drape set starter kit, rights to reproduce client consultation, a colour wallet selected for you and four weeks of group coaching support after the course.      
Graduates of this course get invited to selected AIM's Master Group e-coaching and mentoring sessions.
Date
14th to 16th January 2020
Venue
100 Pasir Panjang Road #07-04, Singapore 118518
Time
8:30am to 6:00pm daily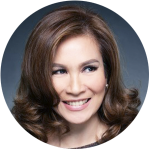 This was the greatest investment I made for myself and for my future. The master trainers are great teachers who are true professionals. Christina is the best colour and style expert and inspiration for other Asian image consultants. Both Lynne and Christina truly care for their students and sincerely have wisdom and commitment to the image consulting industry!
As a professional trainer myself, the course and trainers exceeded my expectations. I would certainly encourage anyone who would like to consider image consulting as a career to join the ImageAsia® programme. Thanks for covering the course in-depth and for providing us with support even after the course ended! It's certainly value for money!
After eight years of working as an image consultant, I took the ImageAsia® programme. I highly recommend it to anyone who wants to become a top image consultant. Not only are Christina and Lynne technically sound from years of experience, but also inspiring for you to become someone you can never imagine. My millions of dollars of revenue started from there.
Invest In The Best Pathway To International AICI Certification
The AIM experience offers you an enriching inside-out transformation integrated with world class image educational for your professional development.
Beyond mastering best industry practices, it opens the door to an empowering community – from passionate faculty trainers with industry experience to caring graduate assistants and the rich and diverse cultures of course mates from all over the world for peer support and more.