Image consultants are among the fastest-growing professionals in talent development and personal branding
Enquire Us Now
The most successful image consultants are individuals who enjoy working with people to realise their fullest potential through their appearance, behaviour and communication.
Image consultants add the polish that builds confidence in individuals and increases brand reputation for an organisation's public image. Since the industry's early beginnings in the 1980s, image consulting has evolved into a multi-disciplinary profession that generates millions of dollars in service fees for image management training, coaching and consultancy.
Globally, people realise the power of first impressions.



From all walks of life, image consultants help people to increase their confidence and opportunities for success in their career, business, relationships and social life
Image consulting is an ideal career for those who enjoy helping people to fulfil their potential. Couple that with a passion for style and a keen eye for the aesthetics of design and fashion to make this a dream career or business enterprise well worth exploring with AIM.
What Services Do Image Consultants Provide?
Image Consultants are image management and soft-skill experts who improve the personal or professional image of a client. They evaluate, enhance and upgrade their client's appearance, behaviour and communication skills to ensure that their personal brand is consistent with their professional or business goals.
Just think of us as passionate educators helping you with your personal branding in the ABCs of image management.
Appearance
Colour and style analysis, wardrobe management, personal shopping, accessorising, hair, makeup and grooming etc.

Behavior
Body language, business and social etiquette, civility, protocol, brand culture etc.
Communication
Verbal and written communication, social media presence, presentation skills etc.
The opportunities for training, coaching and consulting people on the above are endless. Image management and soft-skills are in high demand for leadership, sales and negotiation, networking, emotional intelligence, customer service, job interviews, career performance appraisals, business entertainment, public speaking, presentation and more. Imagine your opportunities as an image consultant!
There is also an increasing trend among professionals in services related to beauty, wellness, personal styling, apparel retail, HR and talent development where image consulting skills value add to an existing profession or business.
Successful full-time image consultants command four to five-figure fees per client engagement as personal image consultants, executive coaches, trainers, image workshop facilitators, authors, bloggers and speakers. What you can expect to charge as an image consultant will depend on geographic business location, past related experience, the extent of image consulting training and guidance after, the dedication of time and effort as well as marketing ability. Contact us for a non-obligatory discussion to assess your image consulting earnings potential.
Consider your current or past career or business experience and contact us to discuss how image consulting can expand your value-added services and take your career or business to the next level.
Contact AIM Now
Who Do Image Consultants Work With?
Image consultants work with people from all walks of life from individuals to business professionals and anyone looking to improve their image as a personal brand.
Clients include people who understand the power of personal branding in an increasingly competitive world, where first impressions can make or break career, business and relationship opportunities in life.
Image consultants serve individual and organisational clients in a variety of market segments, including:
Private individuals
Corporate executives
Business owners
Public personalities
Politicians
Corporate companies – local and foreign
Educational institutions
Professional associations
Social clubs/societies
Community centres and social networking groups
Do You Have What It Takes?
If helping people to enhance their confidence through personal branding is a passion you have had for years, contact us to schedule a call.
Investing in image education is a big first step, and it is wise to do your homework. While our track record of successful graduates will tell you that the Academy of Image Mastery is a top image consulting school of choice, every student is unique, and it helps to get to understand your plans. We are committed to helping you make an informed decision that best supports your goals. Drop us an email with your questions. We are excited to help you take the next step towards a fulfilling career!
AICI CEU-Approved Competency-Based Courses at AIM puts you on track for professional certification by AICI.
The Association of Image Consultants International (AICI) is the leading and largest professional association of personal and corporate image consultants worldwide with over 1,000 members from more than 40 countries. Founded in 1990, AICI is dedicated to the task of advancing the level of professionalism and enhancing the recognition of image consultants.
We recommend AICI membership to all image consultants who are committed to professional development and global certification. Upon completing any of AIM's Foundational Courses approved for AICI CEUs (Continuing Education Units), our graduates qualify to apply for AICI's Image Consultant Member category.
AICI Chapters are located throughout North America, South America, Europe, Asia and Australia. For more information, visit www.aici.org and find a Chapter closest to you.
What Are The Different Levels Of AICI Certification?
AICI CIC (AICI Certified Image Consultant)
The AICI Certified Image Consultant shows clients, colleagues and the media that you have achieved a competent level of training and knowledge in the image field and that you keep abreast of current thinking and technical knowledge. AICI confers the title of "AICI Certified Image Consultant" on those who successfully complete the AICI CIC Portfolio review process and pass the AICI Certified Image Consultant exam. A consultant receiving the Certified Image Consultant may write "AICI CIC" after his/her name.
AICI CIP (AICI Certified Image Professional)
When you achieve certification as an AICI Certified Image Professional, you will be able to use the letters "AICI CIP" after your name. It shows clients, colleagues and the media that you have achieved a highly competent level of training and knowledge in the image field and that you are on a journey towards professional image excellence. Among other requirements, you must have achieved AICI CIC and have gained work experience by providing fee-based image services for at least two years full-time or four years part-time.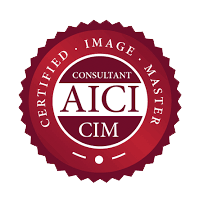 AICI CIM (AICI Certified Image Master)
AICI Certified Image Master is AICI's highest level of certification, denoted by the letters "AICI CIM" after the consultant's name. It identifies exceptional, dedicated consultants, who have a recognised brand in the industry and have demonstrated exceptional levels of competence in their own successful image businesses. To earn the AICI CIM certification, consultants must have been in the image industry for at least five years as an AICI CIC and CIP. You will be expected to demonstrate a unique philosophy, brand or professional process currently in use for clients. A comprehensive portfolio of work and contribution to the industry and community is assessed by external reviewers outside of the image industry.
In addition to AICI certification, clients appreciate knowing that we value integrity and honour professional ethics. When registering for AICI membership, you will be required to commit to and embrace the AICI Code of Ethics.
Is There A Difference Between The AIM Certification And The AICI Certification?
AIM's image consultant courses are aligned to AICI core competencies. This puts our graduates on track for professional certification, making it easier to progress through AICI's three levels of professional certification. We continue to support committed graduates wherever possible in their professional growth and career development for success.
Upon completion of our image consultant courses, AIM confers a Certificate or Diploma that recognises the consultant's attainment and successful completion of the core competencies covered in each course. AIM is proud of the fact that many of our graduates have successfully attained AICI CIC on their first attempt, as well as AICI CIP and AICI CIM in record time time.
Jumpstart Your Image Consulting Journey
Find out more about AIM's certification courses and Masterclasses.